It's been what feels like years since I've actually
quilted
! Between all the shirts and vests, and then the Bionic Gear Bag... Hubby's poor "Family Guy" quilt has been on a back burner. I think the side projects were partially to blame, but also my indecisiveness on the quilting was also a major factor. I think I was over-thinking the process and making it out to be more difficult than it needed to be.... resulting in it sitting for the past 6 weeks or so.
So... this weekend I was determined to get it done. I pulled it off the shelf, dusted it off, and got to work.
Just simple straight-line stitching in the smaller blocks and rectangles, then some diagonal lines in a couple of the larger rectangles. Then it was time to tackle the 12" square blocks and the 8" square blocks. Didn't want to do something too crazy or intricate, but they definitely needed something.
On the 12" blocks, I just used my Silhouette Cameo to cut out a star shape out of cardstock that was about 8" x 8", traced it on the block, and then used my FMQ foot. They're far from perfect, but they look OK.
Then, for the 8" blocks, I used my loopy swirls stencil and just did some FMQ in the block. Again, far from perfect, but doesn't look terrible.
I
t's now about 95% done with the binding attached and just needing the hand-stitching done. Add to that a quilt label (which I still have to make), and it'll be ready to go. Figures... I am finally going to finish it and we have officially entered Spring here in NE Ohio with temps in the 50s.
Linking up to
Linky Tuesday at Freemotion by the River
,
Fabric Tuesday at A Quilt Story
, and
Sew Cute Tuesday at Blossom Heart Quilts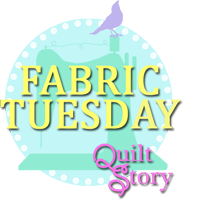 Also linking up to
Freshly Pieced's WIP Wednesday
and
Sew Fresh Quilts' Let's Bee Social
Linking back to
Needle & Thread Thursday at My Quilt Infatuation
and
I Quilt Thursdays at Pretty Bobbins.