It's been a long process, but I finally can check Christmas gift #2 off the list!
This one was quite a challenge considering I'm still a "newbie," but overall it was a lot of fun and turned out better than I had hoped!
Being twice the size of the other two quilts I've done, I was honestly worried that it would turn out OK. Not only did the top come together extremely quickly once I got into a rhythm with it, but the new large throat space on my new machine made quilting a breeze!
I chose to do echo stitching in the lattice and first border, and then Stitch-In-The-Ditch thru the triangles. I also just did some straight stitching in the border to give it some more texture.
Here are the project details:
I actually had so much fun making this one that I've already got the stuff to make a Christmas-themed one (eventually). So glad to be able to check another one of the list :) Such a great feeling!
Hope everyone is having a terrific Tuesday!
Linking up to
Linky Tuesday at Freemotion by the River
and
Fabric Tuesday at A Quilt Story
.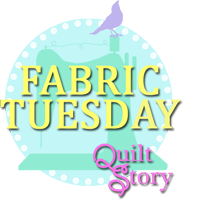 Also Linking back to
Finish It Friday at Crazy Mom Quilts
,
TGIFF
,
Can I Get a Whoop Whoop? over at Confessions of a Fabric Addict
, and
Link-A-Finish Friday at Richard & Tanya Quilts