I already posted last Friday with my
finish on the Pink & Chocolate quilt
, but I didn't get a chance on Saturday to post with my
second
finish for the week.
Between Friday and Saturday, I managed to whip up this awesome table runner for my living room coffee table. We got this table a few months ago when we got our new furniture and boy is it MUCH bigger than we anticipated! It's flippin huge!!! Plus, it's made of that really soft wood (can't think of what kind it is) and scratches really easily. I've been babying it for the past few months, making sure coasters were used and avoiding things that could scratch it. It was about time I made a table runner to protect it.
When I first started this runner, I made the mistake of not looking at the finished dimensions. Minor detail, right? Well once it was all pieced together.... I started panicking! It was HUGE! Honestly, I thought it was going to completely cover the coffee table like a tablecloth. But.... I kept on working on it. Figured I had come this far, I might as well finish it.
Got it all pieced and had the top done by early Friday afternoon. Managed to get it based and the binding made before I had to head off to a 4th of July cookout. After some chores on Saturday, I got to work quilting it. I don't know how I did it, but when I went to square it up after quilting... it really was pretty much straight already! All I really did was cut off the extra batting and backing. That was a total first for me.... that my seams were all straight and the top was square when I started!
Then came the fun part... the binding. Now, I double-checked the pattern twice before cutting the binding strips. 2 1/4" each. Not the 2 1/2" I was used to. OK, no biggie. Got it all sewn on with no problem. Then it came time to use the awesome
Binding Tool
that I love ever so much. I don't know what I was thinking, but I assumed that the tool would work for any size binding. WRONG! Totally doesn't work with binding that is any size different than 2 1/2". I ended up having to monkey with it a bit to get it right, but eventually it all worked out.
Spent practically my entire Saturday night hand-binding it to the back. Got it all done and couldn't wait to try it on the table. Ran downstairs, held my breath, and spread it out on the table. Well wouldn't ya know..... PERFECT FIT!
Like, seriously... there are little lines that run the perimeter of the table a couple of inches in from the edge that make a rectangle. This runner is the EXACT size of that inner rectangle!! I couldn't believe it! I about did cartwheels in my front yard, but at the risk of looking like a nut job to my neighbors... I restrained myself. Lol.
Here are the project details:
I've got fabric to make a Halloween runner as well as a Christmas one. I don't want to use the same pattern, but I'm going to shoot for the same dimensions. This size is perfect! Time to check another project off the "To-Do" list!
Hope everyone is having a terrific Tuesday!
Linking up to
Linky Tuesday at Freemotion by the River
and
Fabric Tuesday at A Quilt Story
.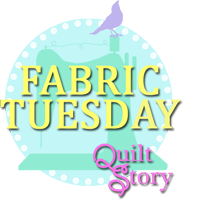 Also Linking back to
Finish It Friday at Crazy Mom Quilts
,
TGIFF with Audrey at Glory Be Quilter
,
Can I Get a Whoop Whoop? over at Confessions of a Fabric Addict
, and
Link-A-Finish Friday at Richard & Tanya Quilts